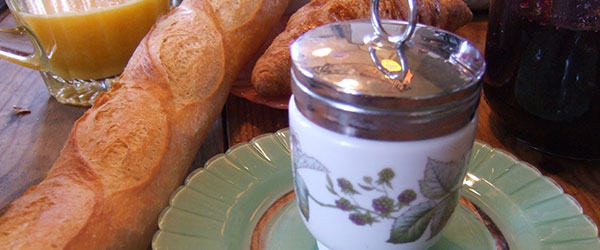 Maybe you are one of those who had the chance to have breakfast at Domaine du Meunier and taste eggs prepared by Coen. No ?! Hurry to book a room and ask that specialty!
Three delicious recipes delivered by Coen. All are egg-based and ideal for a hearty breakfast.
Coen's way of coddling eggs
To make this specialty, you need a specific instrument: an Egg Coddler. This is a small porcelain pot with a metal lid, typically english (even a little bit 'posh' according to an english client…). Royal Worcester, the well-known porcelain specialist, no longer manufactures the Egg Coddlers which makes them objects to hunt for on flea markets.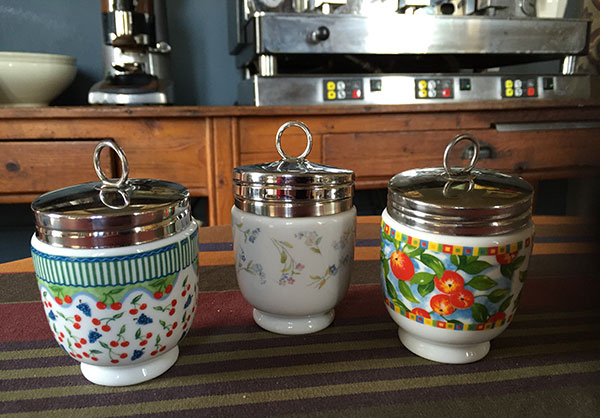 Furthermore, if you want to do it really the way Coen does, you will also need a well-trained dog! Yes, at Domaine du Meunier, everyone contributes to the breakfast!
Ingredients for 1 person:
1 egg
a knob of butter
few drops of strong vinegar (like homemade vinegar)
4 little pieces of bacon
3 diced tomatoes
a little grated cheese
a few drops of olive oil
sea salt / pepper
thyme and marjoram
The preparation :
Put some butter on the surface of the Egg Coddler, but keep a small piece of butter. Add a few drops of vinegar, add bacon and tomatoes. Break the egg on it and put the cheese, the little bit of remaining butter, olive oil, salt, pepper and herbs.
Close Egg Coddle without tighten the lid and place in a pan with water to 5 mm below the lid. Bring to the boil. From the moment the water boils count 10 to 12 min, otherwise as advised Coen, wait until the water level is lowered to half of the Egg Coddlers.

Take the Egg coddler out of the water, open and mix with a spoon before serving.
Of course, you can make this recipe with the ingredients that you like. Coen however does not recommend Parmesan cheese because it does not melt very well.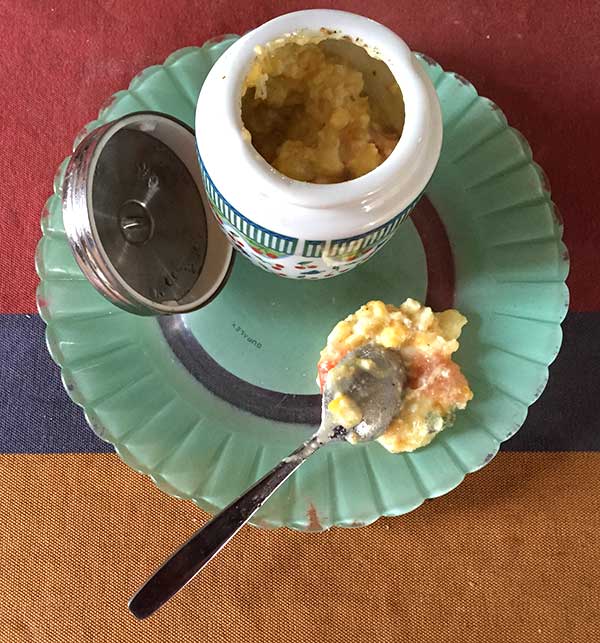 Poached eggs, with parmesan & nuts
Another recipe requiring only a pan and a fork. You will see that these are no burrs (you know those little filaments that form from white). How do you make them? Just follow the recipe to the letter.
Ingredients for 1 person:
the relatively strong vinegar (like homemade vinegar)
3 walnuts
an olive oil
balsamic vinegar
a small knob of butter
grated parmesan
sea salt / pepper
some herbs
The preparation :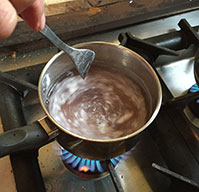 Bring water and strong vinegar to a boil. When the water boils, use a fork to sturr around so as to create a vortex. Break the egg in the heart of this vortex, and the secret of success that many recipe omits to say, is that you have to continue to turn with the fork, but being careful not to damage the egg.
Cook until the white is hard enough and for the yolk it depends on your taste. You will get a beautiful well regular egg that you can drop with the crushed walnuts, salt and pepper, little bit of butter, olive oil, balsamic vinegar, Parmesan and some herbs.
Serve with a salad and toast.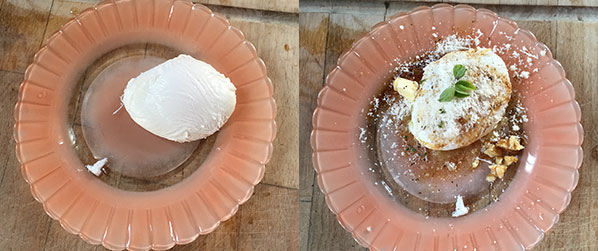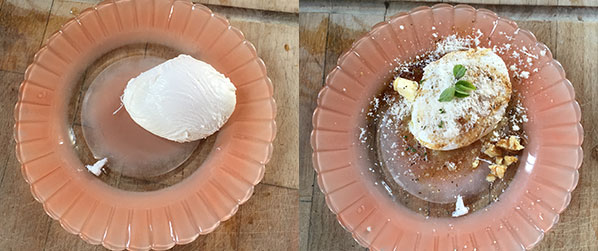 The flower eggs
For this recipe take cooking food film (be careful it's a film for « cooking », otherwise it will melt).
Ingredients :
an egg
3 diced tomato
an olive oil
some walnuts
grated parmesan
some herbs
The preparation :
In a cup, drop a cooking food film like a little bag. Put in the diced tomato, olive oil, nuts, Parmesan cheese, salt, pepper, herbs and finish with the egg.
Gently close the film by using a clothespin. Be sure to tighten but take care not to break the yolk.
Boil water in a pan and place the egg in the film in it for at least 7 minutes cooking (white must be quite hard).
Remove the egg and open the film gently. The egg white will have taken the folds of the plastic wrap and present a shape similar of a flower and all the ingredients will be contained in the egg!
Enjoy it with a salad and toasts.
If you want to taste the egg à la Coen at breakfast at Domaine du Meunier, remember to book the day before!