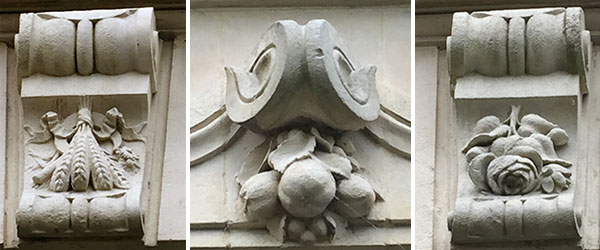 The sand stone is often used for decoration of houses in the area, Le Domaine du Meunier is a good example, but as well for sculptures. We invite you to discover the stone-art through an extrodinary place, Les Lapidiales at Port d'Envaux, in combination with a young sculptor from Arces-sur-Gironde (near Mortagne), Mathieu Harzo.

Les Lapidiales
There are many stone-pits in Charente-Maritime, some of them are no longer used today. Alain Tenenbaum, sculptor, wanted to « create an art space in perpetual evolution » in one of these stone-pits in order to receive « sculptors of all countries over the decades. » Then Les Lapidiales were born in 2001 in Port d'Envaux. Since sculptors succeed to give life to the immense white limestone walls.
International artists in residence are given a theme in order to the site appears as a coherent work of art.
Today it is a real outdoor museum, with free access, which give the impression of being in the middle of a giant labyrinth and where we discover the sculptures grouped by theme.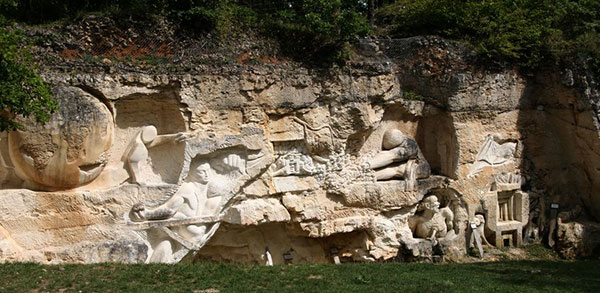 The stone-pit has been entirly carved and since 2012, the project evolved into the Galaxy standing stones. This artwork provides a final installation of 365 megaliths dedicated to the cultures of contemporary human societies. For this project, the artists are called to work around a civilization. This year the creations will be linked to the Amerindian cultures. Last year the Celts were honored and among the seven artists was Mathieu Harzo, local sculptor whose statue titled is Celtic warrior before the fight. This is located on the forecourt of the Pôle Nature de la Pierre de Crazannes.
Mathieu Harzo
Graduated from the Academy of Arts of Avignon, Mathieu Harzo  is installed at Arces in the Atelier Treize Ter where another artist, Valérie Décoret, also exposed her paintings.
Mathieu works ornamentation and decor stone for construction, and also created sculptures inspired by ancient creatures (fauns, satyrs) and Roman Art. Currently he works for the municipality of Arces. This work refers to the lion and bird motif. This is a common theme in the Roman Art of Saintonge. By the way, you can try to find this motif on the decor of the village church.
This statue, entitled Body & Souls can be seen in Atelier Treize Ter before the implementation June 7, 2016.
A day trip around stone
It is possible to go for a day trip to visite Lapidiales and  Atelier Treize Ter. It takes an hour to go to Crazannes (direction Gémozac Saintes, Saint Porchaire, Crazannes). Soon we will talk about Saintes.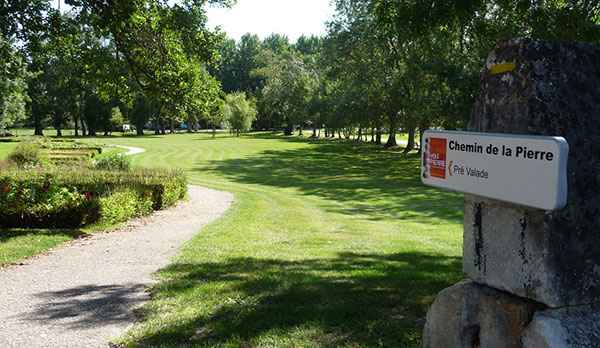 Arriving to the car park of Pôle Nature de la Pierre de Crazannes, you can go to the loop named Chemin de Pierre that will lead you to the Lapidiales. If you plan to leave in the morning, it is then possible to picnic in the middle of the sculptures or a little further in Port d'Envaux, along the Charente river. For the return you either turn back, or continue on the path, which borrows the old towpath to reach the village of Crazannes, through castle of Panloy and the castle of Crazannes before returning to the car park.
The loop is 10 km. If you decide to do only a part here are some landmarks:
– from car park to Lapidiales : 2km
– from Lapidiales to Port d'Envaux and Charente : 1.5 km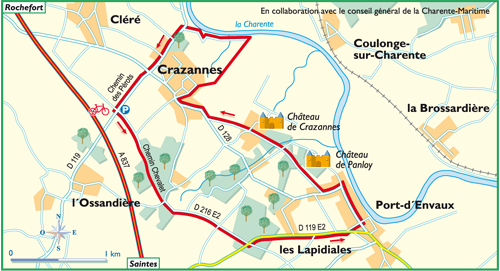 Before going back to Mortagne, you can stop at Arces, to visit the Atelier Treize Ter , to discover the work of Mathieu Harzo and also Valerie Décoret universe in the showroom just nearby.
If you are hungry, a few meters further on you will find restaurant Le Cottage. We strongly advise all our clients to go . You will discover a subtile cook of Irish and French cuisine.
To organize your day trip, contact the various sites. Others activities are also possible on the day (boat trip on the Charente, introduction to freestone, fun course for the family …). Here are the links to ensure their opening hours:
Les Lapidiales
Pôle Nature de la pierre de Crazannes
Atelier Treize Ter
Le Cottage
Photos / Vidéo :
Arcimages
Culturebox
Mathieu Harzo