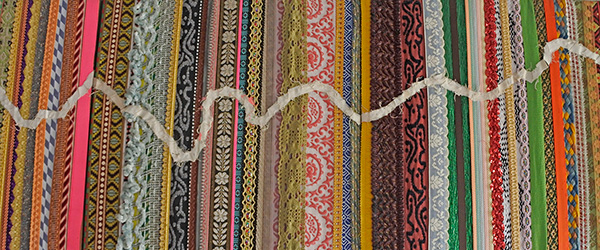 In the early 90s, Australian artist Stephen Eastaugh worked in Coen's bar in Amsterdam. Since then, he has traveled more than eighty countries across all continents. Some of his work is to be discovered at the Domaine du Meunier.

Stephen Eastaugh is primarily a traveling artist. Born in Melbourne in 1960, he is clearly marked by the seafaring profession of his two fathers (biological and adoptive). Both are at the origin of Stephen Eastaugh's self-diagnosed « illness »: an uninterrupted, uncontrollable and incurable need to travel. It is on the roads and during his stays that he creates.
He graduate the Victorian College of the Arts in Melbourne and has presented to date more than 100 solo exhibitions around the world
Coen met Stephen in 1992 when he recently arrived in Amsterdam. Stephen was looking for a job to satisfy his irresistible need for travel. The projects and the character immediately appealed to Coen who offered him a job of dishwashing and making sandwiches. He stayed there until 1998 with some cuts needed to visit new countries.
At this time, Stephen Eastaugh hasd a studio in Amsterdam where he creates and already exhibits in different countries, Australia, Netherlands, France, Bulgaria, his work is marked by his travels.
For the birth of Timber, the eldest son of Coen and Ariane, Stephen will made two drawings and write for the occasion a very nice story about his friendship with Coen. It was at this time that he made his first trip to Antarctica, a continent on which he would return regularly.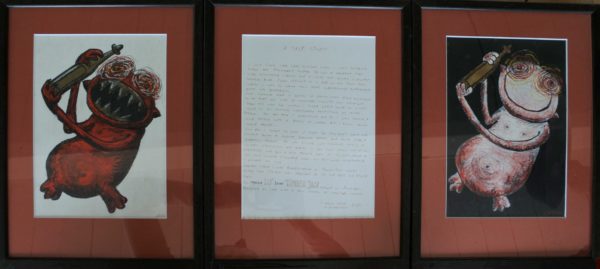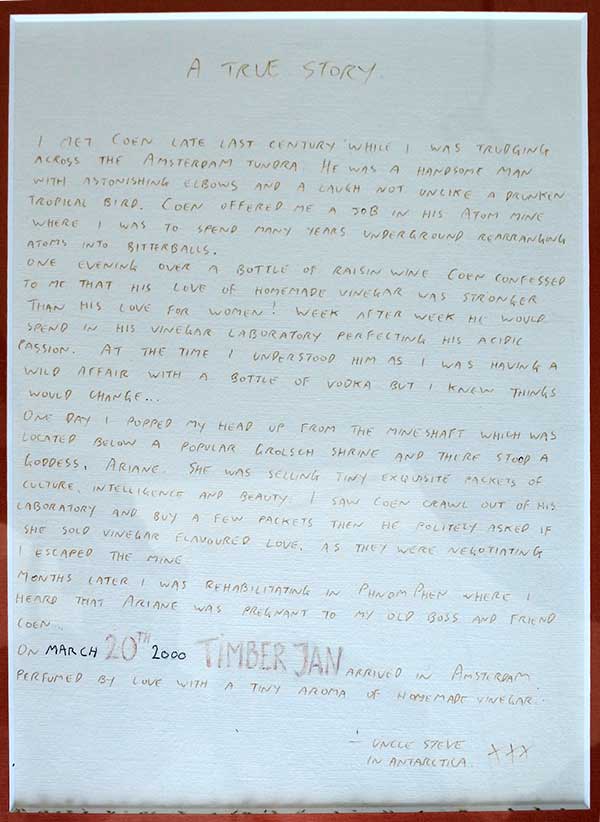 From his first trip to these icy lands, he will bring back a series detailing the 9 « bases » of life on the spot. Painted on wooden planks recovered from the camp, Coen and Ariane acquired these 9 small panels.

Eastaugh's works are often composed of materials from different cultures encountered during his travels. The textures are strong: wood, encaustic wax, medical bandages, carpets, fabrics, embroidery, damaged papers or more recently shells.
In the gîtes sexhibitssome of his works, which were the subject of an exhibition in Paris in 1997. These series of small formats all show ribbons of fabrics placed in a very geometric way, sometimes associated with painting or other materials. Each work represents a country visited.
Some paintings are in expo-sale, you can acquire them, for that ask us.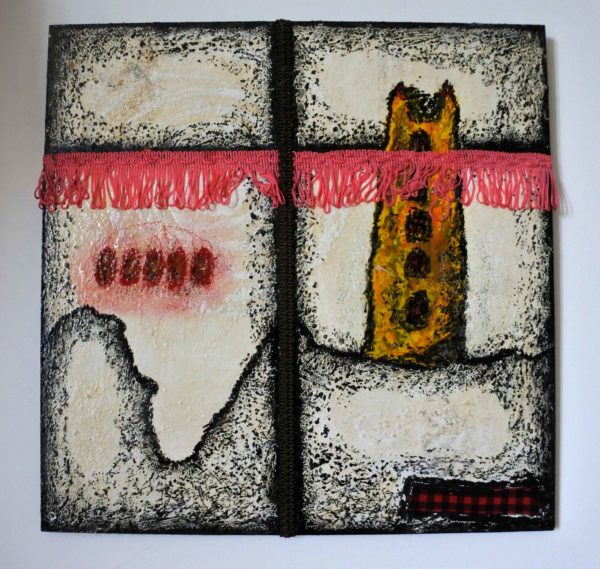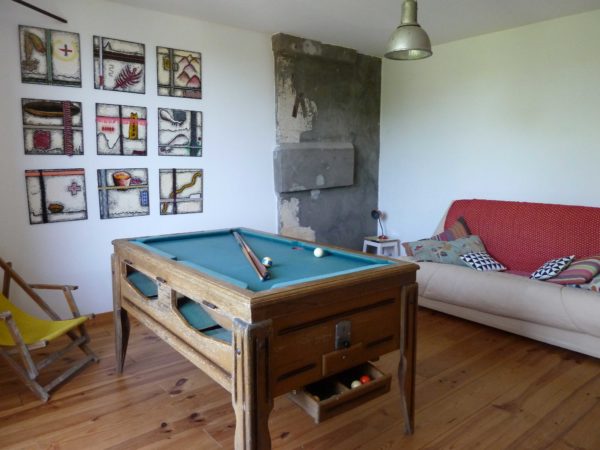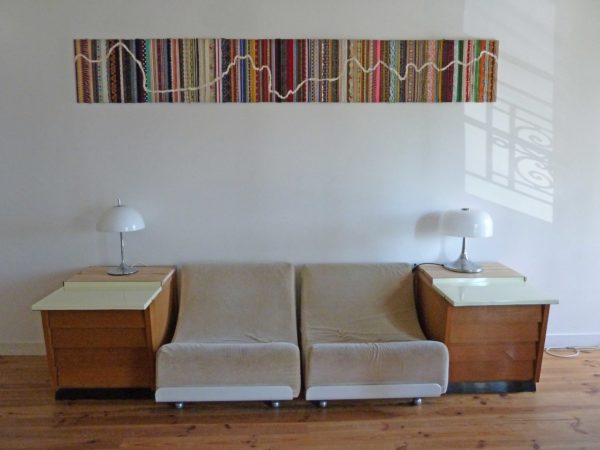 On one of the walls of the Salle Parias Frères, made at the same time as the Timber birth card, you can see the very large Hot Water Bottle Ice Cube. Painted on traditional Australian wooden tiles, this character seems madly caught between a hot water bottle and a shower of ice cubes. This work was first installed in the Netherlands then dismounted blade by blade to finally be attached to the well in Mortagne-sur-Gironde.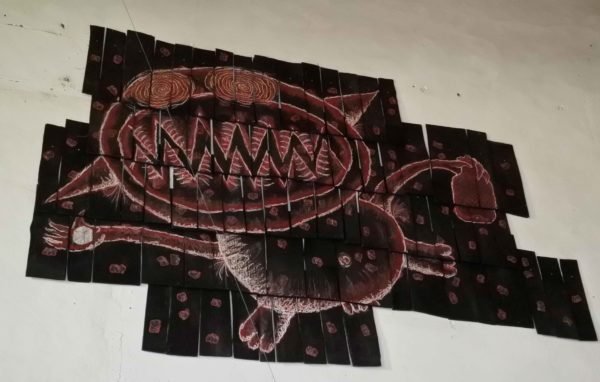 In the library is Coen's favorite series, which is also the first work he bought from Stephen. Entitled Pleasantly horrible, these are 9 drawings made on crumpled paper.
It is also in the library that you can consult a book dedicated to the artist: Unstill Life
To discover his universe, visit his website and we recommend this little video about one of Stephen Eastaugh's stays in Antarctica: